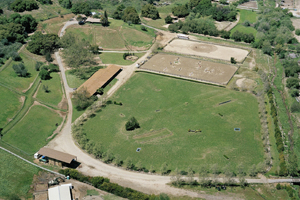 Located in the beautiful rolling hills of Fallbrook California, Fairbrook Farm possesses a history full of inspiration and a passion for the horse industry. Originally used as a training facility for racehorses, Fairbrook farm offers twenty-five acres of land for the horse enthusiast. The current accommodations include a five acre world class hunter/jumper derby field, a twenty horse adobe barn, twelve outside corrals, two large sand arenas, four grass turn-outs, a wash rack, hot walker, and a round pen.
Catering to any age group, and to any level of riding, lessons are completely tailored to you and your horse. We offer outstanding horsemanship guidance and provide detailed instruction and education to maintain a safe environment for our riders and horses. From getting acquainted to the equine industry, to maintaining your equestrian ambitions, Fairbrook Farm will ensure your success both in and outside of the arena.
Julie Zumstein
Julie a USHJA Certified Trainer, began riding when she was five years old. Filled with ambition and a love for horses, Julie rode with the U.S. Olympic Show Jumping Coach, George Morris, for the first time when she was eight years old. By the age of eleven, she was jumping over four foot. Throughout her teenage riding and showing career, Julie was taught invaluable skills by her mentors Dianne Grod, Jerry Baker, and Bertalan De Némethy. After deciding that she wanted to become even more involved within the equine industry, Julie began her search for a hunter jumper facility with the intention of sharing her knowledge through teaching riding lessons to others. When Fairbrook Farm was purchased, Julie rapidly began to invest all of her time and energy into producing a one of a kind equestrian location. Twenty-five years later, through teaching techniques and trainer reputation, Fairbrook Farm has now become, as George Morris puts it, "a world class hunter/ jumper facility".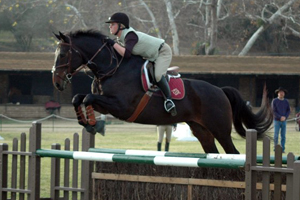 Taylor Zumstein Reese
Julie's daughter, Taylor, assists with the management of Fairbrook Farm and is an Event Coordinator. Taylor was introduced to horses at a very young age and grew up in the equine industry. She has been familiarized with many well-known trainers and rode in Fairbrook's annual George Morris clinics for many years. While in college, Taylor was a national finalist at the 2011 Intercollegiate Horse Show Association competition held in Lexington, Kentucky and also served as the team's Hunt Seat Captain from 2012-2013. You can usually find Taylor preparing for an upcoming event, helping out with lessons, cleaning stalls, or playing with her sheep.